A protective arm sleeve for the elderly can help to protect the fragile skin on their arms and hands from getting scratched, bruised, or hurt with everyday activities. The sleeves will provide protection, comfort, and warmth for seniors with sensitive or fragile skin during cold weather.
Protective arm sleeves usually consist of comfortable and soft moisture-wicking fabrics with spandex or elastic materials to keep them in place or provide light compression to improve blood circulation and prevent swelling.
There are a variety of protective arm sleeves for the elderly, so your choice will depend much on your needs.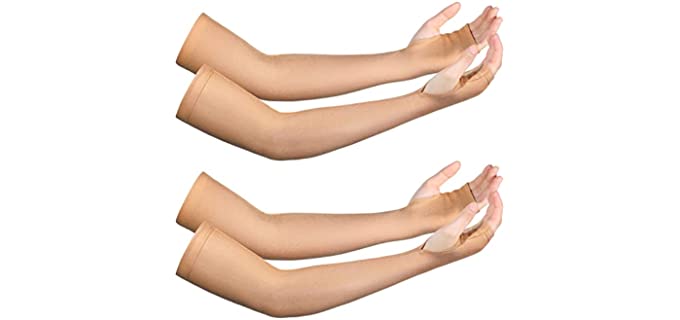 ---
---
Protecting Your Arms as a Senior
Older adults tend to have fragile and much thinner skin that may bruise, chafe, and damage much easier, not to mention the sun, aging, and other genetics that damage your skin.
Long-term use of certain medications, such as corticosteroids, may weaken your skin and the blood vessels in your skin.
Because your arms and hand are part of your body that is mostly exposed, it is important to do your best to protect the skin on your arms and avoid injuries and damage to them.
You can wear a long-sleeved shirt that covers your forearms when you are outside or gardening. There are long-sleeved shirts made of fabrics breathable and cool fabrics during summer.
It would be best to avoid prolonged exposure to the sun as it will quickly age your skin, and excessive sunburns may lead to cancer and a damaged skin barrier.
Sunscreen is a must at all ages and should be used regularly on your arms and face if you go outside.
Keep your skin well moisturized with good barrier cream to improve the health and elasticity of your skin.
Protective arm sleeves are likewise ideal, especially if you have very fragile skin and need something with light padding or compression.
---
Benefits of Protective Arm Sleeves for Seniors
Seniors have delicate and fragile skin as they age; some may have skin problems making their skin even thinner and more prone to injury and damage. Wear clothing, such as protective arm sleeves, which can relieve the stress of risking daily injuries and prevent injuries during daily activities.
Some skin sleeves also provide light compression that can reduce swelling while it protects your skin.
Most protective arm sleeves come in a wide range of colors and options you can match with your clothing, so you do not need to worry about looking strange or out of fashion.
Skin Protection – The main function of protective arm sleeves for the elderly is to add a layer of protection over skin t may be thin and fragile. It will protect your arms and hands and reduce bruising, abrasions, cuts, and scrapes. Elderly individuals frequently experience a bump or a scratch, and because their skin is more fragile, the damage can be more severe than when they were younger. The Protective arm sleeve can help to provide a layer of security and protection against these incidents.
Compression – many protective arm sleeves also provide light compression, which helps reduce swelling in your hands and arms and reduces discomfort in your extremities. With light compression, you have improved circulation and protection against bruising, cuts, and abrasions.
Security and Comfort – When you have an extra layer of protection over your arms, it creates a certain feeling of security and comfort, so you have peace of mind not having to worry about bumps, scratches, and bruises to your arms during the day. You can focus on your daily activities rather than worrying about getting injured with your exposed arms.
---
Features of a Good Protective Arm Sleeves for the Elderly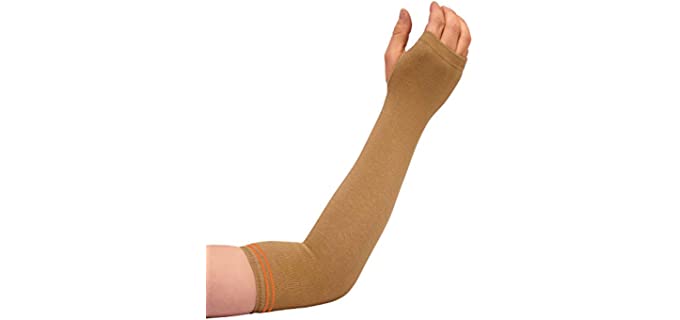 Materials – Protective arm sleeves are comfortable and soft materials you can wear all day. Usually cotton, polyester, or a blend of both, with spandex and elastane for stretchability. Most designs are seamless for comfort, and you also get nylon arm sleeves.
Moisture Wicking – Most protective arm sleeves offer excellent moisture-wicking capabilities and keep you dry and cool even in the hot summer.
UV Protection – Some protective arm sleeves consist of fabric that provides excellent UPF, UVA, and UVB protection, to prevent sunburns on your skin.
Size – size is crucial for protective arm sleeves, especially if you choose compression arm sleeves. You need the right size to offer a comfortable fit that will stay in place on your arms.
Compression – Some protective arm sleeves will have light compression and elastic materials to reduce swelling and improve blood flow in your arms.
---
Reviews: The Best Protective Arm Sleeves for the Elderly
In our list, we have some of the best options that you can consider in protective arm sleeves for the elderly;
---
1
The SecureSleeves are arm sleeves designed especially for seniors to protect their skin.
They consist of cotton, Chitosan rayon, and nylon, with spandex for stretch.
You get a set of two pairs of arm sleeves available in different sizes.
They are comfortable and stretchable.
---
2
The Limbkeepers are protective arm sleeves for the elderly.
They are non-compression sleeves that protect you against bumps, bruises, and abrasions.
The arm sleeves are a comfortable polypropylene, nylon, and flexible spandex fabric.
They are available in more sizes and will help to reduce injuries in the elderly.
---
3
The Eurozone sleeves for seniors will offer excellent arm protection and comfort.
You get eight pairs of arm sleeves and have a clean one daily.
They are comfortable, non-restriction, and have non-compression arm sleeves.
They will offer a comfortable, snug fit that will protect your arms.
---
4
The GeriSleeves are designed specifically for fragile skin in the elderly.
They offer premium protection with high-quality and breathable materials.
The arm sleeves are hypoallergenic and latex free.
They have a custom and flexible fit that will not slip off your arms.
---
5
From JanMercy, you get a set of 9 protective arm sleeve pairs for the elderly.
The arm sleeves are soft in breathable with Chitosan rayon, nylon, cotton, and spandex fabric.
They have a thumb-opening design to protect your hands.
The size is universal and flexible to wear.
---
6
The Come arm sleeves for the elderly come ins of arm sleeves.
The protective arm sleeves have multiple functions that protect you against abrasion, tears, cuts, and bruises.
They consist of comfortable cotton in a spandex blend that is breathable and stretchy.
The sleeves have an elastic and anti-slip design that will not slip off your arms.
---
Index Table: Top Rated Protective Arm Sleeves for the Elderly
---
---