As a senior lady, your hand and body may not be as agile as they used to be in your younger days, whoever you may still need the support and comfort of a proper bra.
Let's face it, ladies, bras are not the easiest or most comfortable clothing items to put on, especially with the back closure and little hooks and eyelets.
That is why I want to introduce you to the best Velcro bras for the Elderly ladies that close in the front with an easy Velcro closure.

---
Why Are Velcro Closure Bras so Ideal for Seniors Ladies
A Velcro bra is an ideal solution for an elderly lady who struggles to put on and fasten a regular bra and may suffer from conditions that cause weakness or impede their range of motion.

Easy to Put on and Take Off – The Velcro closure bra requires much less fine motor skills than the regular hook and eyelet bras and much less strength to close than a snap bra or flexibility than a full-on bra.
Front Closure – As you will see, the Velcro bras that we have chosen close in the front, so you do not have to struggle to reach the back or have to turn the bra.
Easily Adjustable – The Fit of a Velcro closure bra is very easily adjusted, and you can get the perfect fit and size with this type of bra.
Comfortable Fit – A Velcro closure bra for seniors comes in many comfortable shapes and designs, especially for ladies.
Many Fashionable Designs – Many fashionable designs and color options are available in Velcro closure bras that are also perfect for senior ladies.
---
Choosing Your Velcro Bra
When choosing a Velcro bra as a senior lady, first of all, you need to get proper measurements to make sure that you get the right fit. Even if the Velcro allows for adjustability, you still need a correct fit.
The style and design should be comfortable for you personally, and I would opt for more neutral colors that you can wear with almost any outfit.
---
Features of a Good Velcro Bra for the Elderly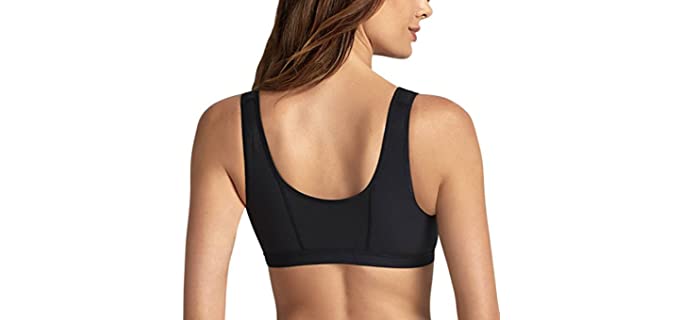 Materials – Most Velcro bras consist of a soft cotton that is breathable and natural, with a soft seamless design in the cups. However, you also get polyester and nylon options.
Design – Velcro bras with a front closure are much easier to use by a senior and a much better choices. Look for a supportive bra that has thicker straps for comfort.
Colors and Options – From Our list you will see that we have included brands that do offer some color options in their Velcro bras, as well as standard and plus sizes.
---
Reviews: The Best Velcro Bras for the Elderly
In our list below, you will see some of the best available bras for senior ladies that all feature easy to use Velcro closures;
We hope you love the products we recommend!
So that you know, We may collect a share of sales or other compensation from the links on this page.
---
1
The Gentle Touch Velcro bra is comfortable and easy to use by senior ladies.
It has a Velcro band front closure with a hook and loop design.
The bra is ideal for after surgeries or for senior individuals.
It consists of 100% soft and hypoallergenic cotton.
The bra does run a bit small, so it's advised to get a larger size.
There are more neutral colors and standard and plus-size options available in this bra.
---
2
The Anita Isra bra is a comfortable and feminine-styled bra for senior ladies with a Velcro closure.
The bra comes in neutral black, nude, and white color options and many sizes.
It consists of soft and breathable cotton with elastane for the band.
There is a front hook and loop adjustable Velcro closure that seniors can easily use.
The bra has smooth breast pockets on both sides and soft edges on the bands that are non-irritating.
---
3
The Undercover bra for seniors is ideal and comfortable.
The bra features a front hook and loop closure with Velcro fasteners for easy use by seniors.
It is a soft cotton and elastane material.
The bra comes in proper bra sizes with up to DD cup sizes and plus sizes.
It is also very durable and machine washable.
---
4
From Underworks, we have an Arthritis bra ideal for senior ladies with arthritis and difficulty putting on and taking off their bras.
The bra has a hook and loop closure with Velcro fasteners in the front that us much easier to use.
It consists of polyester and cotton, blended with spandex for stretch.
Pregnant ladies can also use the bra for breastfeeding because of the design.
It is designed to meet the needs of not-so-nimble fingers and arthritis patients.
---
5
From Fresh Comfort, we have something a bit more sporty and elegant for senior ladies.
The bra design has a front Velcro closure that is very easy to use.
The cups are soft and lined, and the bra has wider straps for your comfort.
The seams are hidden, and the bra is completely tagless to reduce friction.
It consists of modal polyester, combed cotton, and spandex.
The bra is available in three colors and has many size options you can choose from.
---
6
From Anita Isra, we have their Velcro closure bra in black for senior ladies.
It is a neutral color and machine washable.
The bra has a gook and loop Velcro front closure and button.
It has wide and comfortable straps and soft-lined cups.
The bra is smooth and seamless for less irritation.
There is a wireless form that provides enough support.
The bra is cotton and elastane.
---
7
Another addition from Fresh Comfort is their Nude colored bra that will not show underneath any colored or white clothing.
The bra is soft and comfortable for senior ladies and has a front closure with Velcro fasteners.
It is seamless and tagless to reduce friction and provide comfort.
The bands are wider, and the cups offer good support with a soft lining.
The Bra consists of Polyester and spandex for stretch.
---
8
From Gentle Touch, we have a Surg-Ease bra.
The bra is ideal after surgery or injury, and older ladies have trouble putting a bra on and taking it off.
The specific model is the White color that is lightweight and comfortable.
It is available in plus sizes and full cup sizes.
The bra has front Velcro closures with a hook and loop setting.
It has wide and comfortable bands and a seamless design.
---
Index Table: Top Rated Velcro Bras for the Elderly
---
---