A Good pair of Headphones can be especially helpful for seniors that want to enjoy some music or a Tv show, as well as for many other uses.
They can help to drown out background sounds and improve the sound quality of music or television.
Good headphones for Seniors will have a comfortable design and fit, with clear sound and, in some cases, noise canceling functions. They will also be easy to operate for seniors and suitable for the devices they are needed for.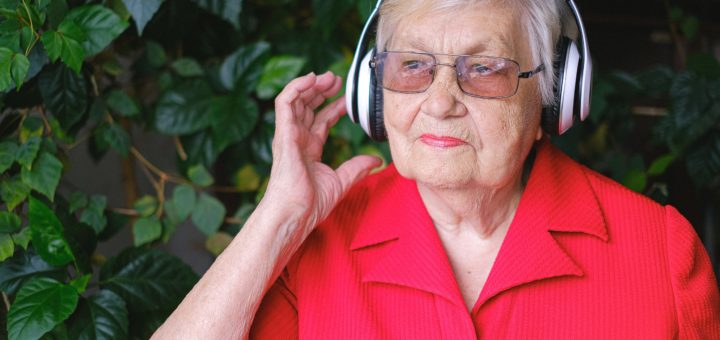 ---
Benefits of Headphones for Seniors
Besides just hearing what you are listening to better, headphones have the following benefits for seniors;
Music and Mobile Devices – Many headphones that are for mobile devices allow you to listen to music and offer a more portable experience. You can likewise answer and hear your phone much clearer with a good pair of headphones.
Watching Television – While watching television, a senior can increase the volume without disturbing the rest of the household and also enjoy noise-canceling functions so that they can focus on their programs.
Group Activities – Headphones can be used in group activities such as exercise classes, Bingo, or Trivia games to enable the senior to hear instructors more clearly.
gentle Amplification – In seniors with some degree of hearing loss, a good pair of headphones can help them to listen to sounds more closely, and they can easily adjust the volume to their needs.
---
Two Types of Headphones
There are generally two types of Headphones available, In-ear, or Over-Era headphones, both of which can be corded, needing to plug into a device, or cordless, meaning they work with Bluetooth connectivity;
In-Ear – In-ear headphones sit just inside the ear. They are very lightweight and much more portable. Most In-Ear headphones are suitable for more mobile devices and listening to music when on the go.
Over-Ear – Over-Ear headphones cover your ears and have a band across your head. They are larger and less easily portable. Over-ear Headphones are more suitable for watching television or working on a laptop or computer.
---
Features of a Good Headphones for Seniors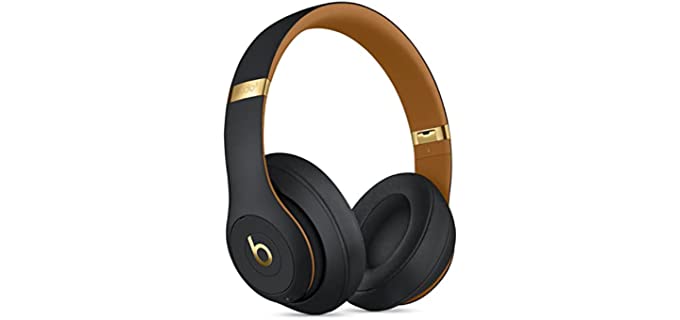 Lightweight and Comfortable – Look for headphones that are lightweight and comfortable to wear by an elderly person. You get in-ear headphones and over-ear headphones. The In-Ear options are the most lightweight by may irritate a senior's ears inside, while the Over Era headphones are larger and usually cover your ears with a band across your head.
Sound – Headphones for seniors need to have clear and audible sound, especially for seniors that are hard of hearing.
Noise Cancelling – Some headphone models have noise-canceling functions that will block out ambient noises so that you can easily focus on what you are listening to. The Noise-canceling features prevent you from having to raise the volume to an uncomfortable level in order to hear above background noises.
Easy Plug and Play – For elderly persons, I would advise a headphones device with easy plug and play functioning. Meaning that it is easy to set up with any device or simply just to plug in and use.
Compatibility – Make sure that the headphones that you choose are compatible with the device that you will be using them for. Some headphones are designed for use with TV, while others are for mobile devices and laptops or computers.
Power Source – You have the option of headphones that plug into a device using power from the device, which is a corded option. Then there are cordless headphones that use Bluetooth to operate and batteries or a rechargeable battery source to power them.
---
Reviews: The Best Headphones for Seniors
These are some of our top favorite headphone designs, which have proven to be very effective and comfortable to use by seniors;
---
1
The Avantree Headphones are wireless Tv headphones for seniors.
They are an over-ear design that is very lightweight with comfortable padding and a comfortable fit.
The Headphones use Bluetooth to connect and can be connected to a television as well as other devices such as your mobile phone.
They are universally compatible with most devices and televisions, which means much fewer hassles for you.
The headphones have an extended range to ensure stable and reliable connectivity.
---
2
From Sony, we have the Rf400, which is a wireless home theatre design set of headphones for watching television.
You can clearly hear the details with the large driver units of the headphones, making them ideal for the elderly.
They have excellent vocal clarity and a 150 feet wireless range.
The batteries will last up to 20 hours for convenience and are so simple to charge.
The headphones have very comfortable fitting ear pads and a comfortable headband.
---
3
From JVC, I have chosen their inner ear headphones that are more suitable for mobile or smaller devices.
They are compact and easily portable, making them ideal for seniors needing to use them during a trip or car ride.
The headphones have a built-in microphone so that you can use them for calls.
They have a remote control for calling and track selections that are very easy to use by seniors.
They are wired and connect to a device with a 3.5 mm audio connector and a 3.28 feet cord.
The headphones are also available in more colors, should you be interested.
---
4
The Sony Wireless Head Phones have a comfortable behind-the-neck style that is more suitable for seniors.
They easily connect with Bluetooth with an NFC one-touch operation.
The battery can easily last up to 20 hours for your convenience.
The cables are easily managed as they are behind your neck.
The Headphones can be used for a variety of devices and for making calls.
---
5
From the beats Studio, we have some wireless Over-ear headphones with a lightweight and comfortable design for seniors.
They are fully wireless and connect easily using Bluetooth.
The headphones have a 22-hour battery life, and they charge easily.
You can easily take calls and control your music with on-ear device controls.
The Over-Ear cushions have a very soft and well-padded design for seniors.
Furthermore, these headphones have a Noise canceling function which is ideal for the elderly.
---
6
From JLab, we have Over-ear headphones that are one of the most comfortable designs for seniors.
There is Cloud Foam cushioned padding and very soft Plush Faux leather covering.
The Fit is fully adjustable over your head.
The headphones have a 30-hour and longer battery life which is quite substantial.
They are wireless using Bluetooth connectivity and come with easy, hassle-free control of volume and tracks.
---
Index Table: Top Rated Headphones for Seniors
---
---