Everybody loves to play board games whether you are a child, adult, or senior citizen.
However, as we age, some board games may become difficult to play and even to read small lettering or images.
This is why we want to help you get the best board games for elderly persons and their challenges.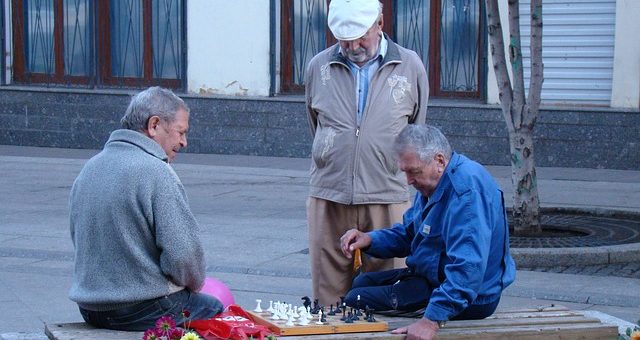 ---
Types of Board Games for Seniors
When it comes to board games, there are a few classics, as well as more modern games that are quite ideal for seniors;
Cards – A deck of cards can provide an array of games you can enjoy. Cards are affordable and fairly easy to read and use by an elderly person.
Scrabble – Scrabble is also a great game that requires some critical thinking and blending with the world of word puzzles for seniors.
Chess – Chess and Checkers is an easy and great game for seniors; it is easy to learn and employs problem-solving skills.
Monopoly – Monopoly is a fun and social game that needs a few members. It is ideal for social skills and development.
Ticket to Ride – Ticket to ride is another fun game where the players will collect color-coded cards to claim tickets for their trains to connect from one city to another; The game is as competitive as a monopoly with simple rules.
Suspend – Suspend is a game similar to Jenga that takes the same concept, where you stack blocks and not stack metal rods instead.
Incan Gold – Incan Gold is a mix of a classic card game with Indiana Jones. You travel to ancient places, collect treasures along the way, and avoid getting trapped.
Qwirkle – Qwirkle is a tile-placement game where you match colors and shapes similar to dominos, It uses pattern recognition and basic mathematics as strategies.
---
Benefits of Board Games for Seniors
Many studies have proven that playing board games, particularly card games, is highly beneficial for elderly individuals.
These recreational activities help them easily maintain their cognitive functions, mental clarity, and memory retention.
Playing card and board games will help prevent the early onset of conditions such as Alzheimer's and Dementia by keeping the brain of an elderly person active, functioning, and relaxed.
In addition to the cognitive functions and benefits of board games and card games, these games also improve social and interpersonal skills in elderly individuals. An elderly person can enjoy a board game with family and friends and strengthen their bonds with these people.
Playing board games has so many wonderful benefits for an elderly person.
---
Features of a Good Board Game for the Elderly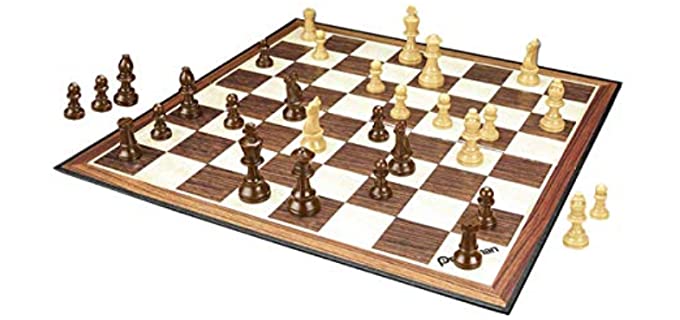 Quality Construction – Make sure that the board game you choose is good quality and from a trusted brand. A board game is a long-term investment, hence why it needs to be quality that will last even with regular use.
Large Clear Lettering – Rather, opt for larger board games with larger lettering and symbols that are easy to read by seniors with poor vision.
Bright Colors – Board games with brighter colors is easier to see and use by seniors. The bright colors are also more enticing and easier to use.
Easy to Read Instructions – Ensure that the board game is easy enough to lay by seniors and that it comes with clear and easy-to-follow instructions.
---
Reviews: The Best Board Games for the Elderly
We hope you love the products we recommend!
So that you know, We may collect a share of sales or other compensation from the links on this page.
---
1
This is the classic design scrabble game for seniors.
The game has letter tiles and a game guide to help you play.
The tiles come stored in a drawstring bag for your convenience.
It includes one board for the game and 100 tiles with letters and four racks.
---
2
The Yahtzee game is also ideal for seniors and is fun to play with family and friends.
This is a dice-rolling game with 100 Scorecards that come with the game.
The shaker can double as storage for the scorecards and the dice.
Ideal for family fun.
---
3
Tickets to Ride is an extremely fun game for seniors.
It is a strategy game where you build tracks across the United States on a strategic board game.
Fun and adventurous game that uses a train where you need to collect and match tickets for the train to ride.
You can score points and claim railway routes for yourself in multiple ways.
Easy and social to play with friends and family.
---
4
The classic Boggle Game is likewise ideal for elderly individuals.
It involves a head-to-head word search game where the one that finds the most words wins the game.
You shake up the letters and flip the timer to spot the words fast,
You can play this game solo or with a few friends and family members.
You get the boggle grid base and lid, with 16 letter cubes, a sand timer, and instructions.
---
5
Monopoly is also a fun and classic game for everyone, even seniors.
It involves the nostalgic, original monopoly game that is interactive and fun.
This is a classic digital design game for the elderly.
Hasbro is a trusted name when it comes to gaming.
---
6
Chess is a game for two that requires strategy and some knowledge for seniors that enjoy this game.
This is a quality chess set with 64 arrange squares and an 8 x 8 grid,
There are 32 back and ivory Staunton chess pieces with a 2.5-inch king.
The game is suitable for adults, children, and elderly individuals.
---
Index Table: Top Rated Board Games for Seniors
---
---