A jumping rope can give you a very good workout to improve coordination and build strength and get rid of all those extra calories.
As a senior, the regular old jumping ropes may not be the most comfortable or sought after for your needs. However, with technology today, there are so many Jumping Ropes for Seniors that are easy to use and pretty safe for seniors.

---
Benefits of a Jump Rope for Seniors
Along with weight loss and improved fitness, there are so many benefits of jumping rope for seniors;
Ideal Cardio – Jumping rope is one of the best Cardio and Fitness exercise forms for seniors.
Stronger Muscles – Jumping rope gives you a full-body, effective workout that will strengthen your muscles.
Stronger Bones – The High Impact nature of jumping rope exercise has a healthy impact on your bones and joints to help strengthen them.
Improves Coordination and Balance – Adding a jumping rope o your exercise routine will help improve your balance and your coordination, which is especially important as you age.
It is Fun – Jumping ropes offer fun, and easy exercise that is relatively safe and comfortable for seniors.
---
How to Use a Jump Rope Safely
As a senior, you need to be able to be safe and comfortable when using a jumping rope;
Stop if it Hurts – If you feel pain, discomfort, or dizziness, stop, slow down, change your routine, or stop jumping.
Stay in Your Target Heart Rate – Stay within your target heart rate and not overexert yourself. The target heart rate for seniors is around 64-.
Jumping Techniques – You can jump using both feet or rotate from one leg to another, whatever is most comfortable.
Get the Right Rope – Make sure that the length of the jumping rope is compatible with your height or adjustable. Look at other features such as padded and comfortable handles and a design that will not tangle.
---
Features of a Good Jumping Rope for Seniors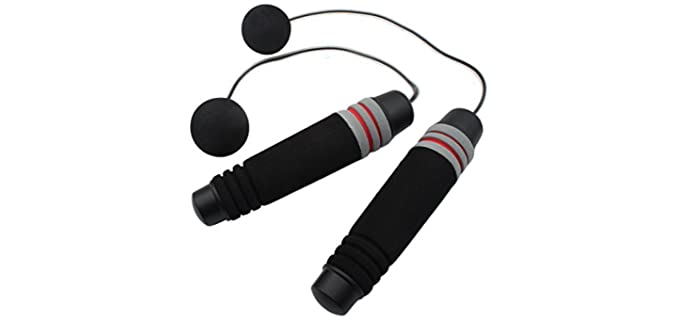 Length – look for a Jumping rope with a length that is suitable for your height or that you can adjust.
Weight – You get weighted and unweighted jumping ropes, the weighted versions offer better resistance, and the non-weighted are ideal for speed.
Handles – make sure the handles are comfortable, and padded, with non-slip texture for grip.
---
Reviews: The Best Jumping Ropes for Seniors
Listed below are some of the best available jump rope options for seniors;
---
1
---
2
The Crossrope Get Lean is a weighted Jump rope set for the elderly.
The weighted jump rope comes to with a highly-rated workout app that gives you easy access to workout routines, wherever you are,
The App operates on IOS and Android systems.
It has a Fast-Clip connection system, and at least you easily switch between the heavy and lighter rope options for a fun and versatile exercise routine.
The jumping ropes are durable and weighted, and easy for beginners to learn.
It has a design that will not coil or tangle.
---
3
The Degol skipping rope with ball bearings is a rapid-speed jumping rope for the more advanced seniors.
The jumping rope has a smooth and fastball bearing system that prevents twisting, winding, and bending, like other fitness ropes.
It has a PVC Wire embedded rope with braided steel wires coated with a softer PVC for durability and a smooth finish.
The jumping rope has a fully adjustable length and can be lengthened up to 9 feet long.
It has soft foamy EVA, and Memory foam grip handles that are extra comfortable.
---
4
The ReMaxx store High-Speed Jump Rope comes with a full exercise guide and two adjustable steel cables for a full training set jump rope for the elderly.
The Jumping rope is suitable for beginners and more advanced training.
It has a massive 10.3 feet non—kinking wire cable that you can easily adjust to any height.
The Non-Slip handles are ergonomic and ensure the perfect grip, even with sweaty hands.
The training guide can be downloaded for free online.
---
5
The Wastou Speed Jumping rope for the elderly is an adjustable rope that is ideal for all ages.
It has built-in dual bearings and 360-degree rotation.
The Jumping rope is 9.8 feet in length, and the length is fully adjustable.
There are comfortable handles that have a non-slip design for an ergonomic grip.
You can easily do a workout anytime or anywhere with the high-quality jump rope.
---
6
From the N1Fit store, we have a 1lb weighted jump rope for the elderly, consisting of solid PVC with cushioned memory foam handles.
The jump rope has a weighted design to blast away calories.
It has a premium quality design with ergonomic non-slip design handles padded with memory foam.
The jump rope will spin slower because of the added weight and is ideal for beginners and all age groups.
---
7
The Benvo weighted ropeless jump ropes are a new technology design ideal for seniors.
The updated version is tangle free and cordless, so there is no tripping or falling.
It is suitable for all ages and levels of training, and there is no height or length limit involved.
The Jumprope has comfortable padded grips ideal for frail and weak hands.
---
8
Another addition is the digital jump rope from Wastou for the elderly.
The Jump rope comes with a digitally built un rope counter that allows you to check on your progress and weight.
It has a weighted design with metal blocks inside the handles that are ABS handles with an ergonomic design and sweat-absorbing soft padding.
The Jump Rope is fully adjustable with a 9 feet length.
There are two rope fewer balls that also allow you cordless jumping for less tangling and tripping hazards,
It is durable with high quality that is guaranteed.
---
Index Table: Top Rated Jumping Ropes for Seniors
---
---