Trivia is an excellent game for seniors that they will enjoy and that will keep their memory sharp.
While it may seem to you that trivia games are designed for people with untapped and overflowing amounts of knowledge, it is not also so, it can be a fun way to give your brain a workout and to keep your memory in check.
In this article, we look at some of the best Trivia games that are ideal for seniors.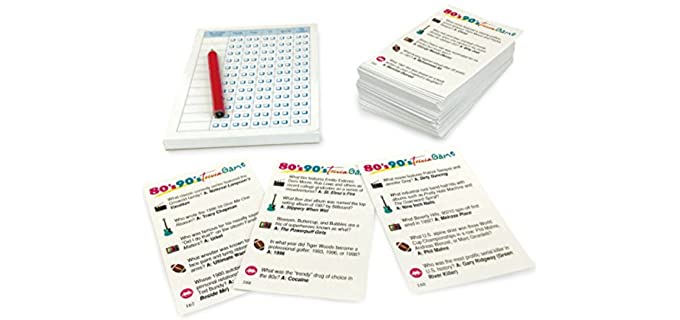 ---
Benefits of Trivia Games for Seniors
Playing Trivia has so many benefits for an elderly person, here are just a few of them;
Improves Brain Health -Trivia games can increase your brain health and improve mental wellness. Older adults that frequently play trivia games will show higher cognitive functions than those who do not engage in such games.
Improves Cognitive Skills – Trivia games will improve your cognitive skills. When someone answers questions and learns new facts they are working at improving their cognitive skills. Recalling information is also a way to exercise your brain and expand your knowledge, by improving cognitive skills. When seniors get together they can also show off their new knowledge and skills to their friends and family members.
Socialization Opportunity – Trivia is a great game to socialize and improve your interpersonal skills. As you need friends and family to play with it is a fun bonding experience and a chance for an elderly person to socialize.
Reduces Stress – Trivia games help to reduce stress in seniors. Especially seniors with Alzheimer's and Dementia may be more prone to stress. When they play Trivia and learn new facts they have a fun time with loved ones and enjoy a more pleasant and relaxed environment.
---
Easy Trivia Topics for Seniors
Trivia games are an excellent source of brain exercise for seniors, consisting of a variety of questions that senior individuals will enjoy.
Here are a few Trivia questions that seniors will appreciate mostly;

Music Trivia Questions – For the music lovers, these Trivia questions can be loads of fun and easy. You will need to complete lyrics of songs, names songs, and the brand or song writers across history.
History Trivia Questions – These questions address important historical facts and date into easy questions for seniors .
Hollywood Trivia Questions – This is fun for seniors that follow Hollywood stars and also that are into movies and series watching. The questions involve Hollywood stars' names, movie names and topics, and more.
Miscellaneous Questions – This is a category that includes regular knowledge questions in trivia such as geography based questions, medical based questions, and many other questions.
---
Features of a Good Trivia for the Elderly
There e are different options in Trivia games today, despite the regular old fashioned Trivia Board and Cards;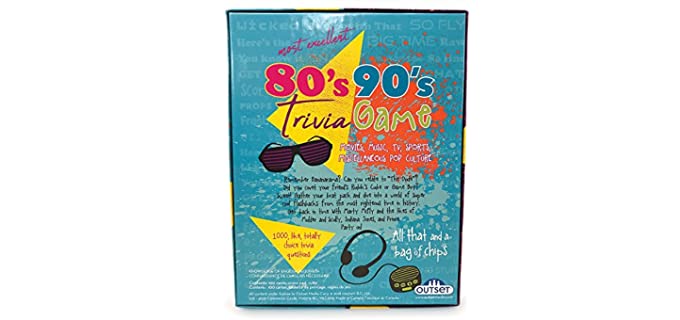 Online Trivia – You get Trivia Online that you can download questions from and operate from a laptop, computer, or mobile device. You can purchase the App or the game online.
Printable Trivia Books – Printable Trivia books are available for purchase, they offer you pages of Trivia questions that you can print yourself or read from a computer or mobile device.
Trivia Board Game – The old fashioned original Trivia Cards and the board game is still available with cards that have easy Trivia questions on them. This is the basic and original Trivia game design.
E-Book Trivia – Then you also get Trivia in E-Book form which you can purchase and play on a computer, mobile device, or E-Book reader of your choice.
---
Reviews: The Best Trivia for the Elderly
---
1
The Jacob Maxwell Trivia for seniors helps to keep your brain young as a senior.
It has 365 exciting and very challenging questions with events from the '50s, the '60s, '70s, and '80s.
The paperback book is easy to use and contains many fun activities.
It is the perfect gift for your parents and grandparents.
---
2
The American Trivia game is an Amazon Exclusive that is ideal for seniors.
It has five categories from which you can choose and over 1000 questions,
Ideal for adults, children, and elderly individuals.
The questions are challenging but still relatively easy,
You can play and learn as you go along, as well as socialize with family and friends.
---
3
The Bible Trivia game for elderly individuals is a fun and brain boosting game for seniors that know their bible well.
It includes many questions to test your knowledge of scripture and to strengthen your faith in God.
Ideal to help with brain improvement and memory improvement for seniors.
The questions are challenging but fun to share with family and friends.
---
4
The all of us Trivia game is a fun family game that is also perfect for elderly individuals.
The game is designed for ages 12 and up, and is quite challenging for a good brain workout.
It contains 576 trivia cards, with 8 wild cards and a 60-second timer.
It is inspired by pop culture and music as part of a party family trivia game that is fun and adventurous.
---
5
Here we have a full activity book and trivia game for seniors.
It contains fun and challenging multiple-choice questions with 400 questions and 150 pages in the book.
The book is easy to carry around with you and has a paperback design.
The questions include facts about just about everything and are ideal for seniors.
---
6
This is a Trivia game for the elderly that includes 80's and 90's questions for parties and events.
It can be used by two or more players and is extremely fun for family and friends gathering.
There are 1000 questions that are fun and quite challenging.
A family favorite among many, for the elderly persons that are a bit more wild at heart.
---
Index Table: Top Rated Trivia for Seniors
---
---