Whether young or old, cleaning is one thing you can never avoid. Of course, one of the essential appliances is a lightweight vacuum cleaner for the elderly to clean carpets and even hard floors.
An older person using a vacuum cleaner may become challenging, as they may not have the strength or mobility they used to have when they were younger.

---
Why Seniors Need a Good Lightweight Vacuum Cleaner
As we all do, seniors need to live in a clean and conducive environment. Seniors need a hygienic living space because of their age and a higher risk of infection and disease.
A good vacuum cleaner helps to rid you of dirt and debris and improves your home's hygiene. Yet, a vacuum cleaner may be heavy and hard to handle for a senior person.
Therefore, a lightweight vacuum cleaner with an easier handle design can come in handy for a senior person.
---
Factors to Consider in a Good Lightweight Vacuum For Seniors
When choosing the right design vacuum Cleaner for a senior, there are more than just the lightweight factors to consider;
Warranty and Customer support – Many of us skip this step. That is why I have placed it first. Good customer support and a warranty protect you if your Vacuum has a fault or damage and if you need it to be serviced or spare parts.
Bagged or Bagless – Most lightweight Vacuums are Bagless today. However, the difference is that a Bagged Vacuum stores the dirt in a disposable bag, which you remove, and a bagless design holds the dirt in a container you need to clean. Bagged Vacuums are easier but more costly than bagless options.
Corded or Cordless – You can get three options here, a cordless rechargeable or battery-operated vacuum, a Corded Vacuum, or a two-in-one where you have a corded vacuum with a removable handheld corded option.
Type of Vacuum – As you will see from our list, you get different Vacuum types, those that operate on floors and carpets, carpets only, and those that vacuum pet hair and fur.
On and Off Switch and Controls – An important fact is that switch or controls may be on the Vacuum's top or bottom. The bottom switches can be hard to reach for older persons.
The HEPA Filter – When you look at a filtration system, the HEPA is by far the best for Hygiene and Pet hair, as it is known to capture particles as small as 0.3 microns in size quickly.
Suction Power – Even in a small and lightweight Vacuum Cleaner, you still want powerful suction power to get the job done correctly.
Maneuverability – For an older person, you want a Vacuum that is easy to use and maneuver, especially for hard-to-reach places, possibly without the person having to bend down.
Weight and Storage – A compact and lightweight design is also a key factor here. You want a vacuum that a weaker older person can easily lift and carry in a size they can also easily store.
---
Features of the Best Lightweight Vacuum Cleaner for Elderly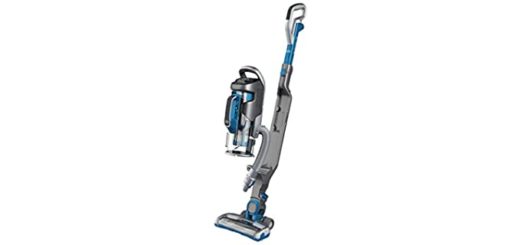 Air Filtration – Good Filtration system such as HEPA which circulates air.
Attachments – Additional Cleaning attachments and tolls, including; a Crevice tool, dusting brush, furniture brush, and a handheld option.
Powerfull – Powerfull suction capabilities.
Design – An Upright or stick design as well as the option of a handheld mode.
Powre Source – Battery or electrictity operated, with the option of being cordless and chargeable.
Weight – Very low in weight at around 10LB more or less.
---
Reviews: The Best Lightweight Vacuum Cleaners for Seniors
These are some amazing Lightweight and versatile Vacuum Cleaners with designs that are perfect for senior citizens:
We hope you love the products we recommend!
So that you know, We may collect a share of sales or other compensation from the links on this page.
---
1
---
2
Dyson has introduced its latest lightweight and powerful cordless vacuums, the Cyclone. A Cyclone is also an excellent option for seniors because of its lightweight and cordless design.
There are three designs to choose from, the Animal, an idea for animal fur, and hair. The Motorhead, which is more powerful, and the original Cyclone design.
The Non-Motorized handheld cordless vacuum can run for 60 minutes flat before it needs to be charged.
There is a direct-drive cleaner head that is the most powerful so far.
The stiff Nylon Bristles on the head allow even better cleaning to capture deep-down dirt.
The design is powered by the original Dyson V10, a powerful and reliable motor.
You can also convert your vacuum into a handheld model easily and quickly.
---
3
The Oreck Commercial vacuum is a more significant and powerful Upright vacuum for seniors.
A powerful, high-speed Vacuum that is still quite lightweight, with so much more cleaning power.
The Vacuum has a 12-inch wide cleaning path ideal for low carpets and saves you on storage space.
An automatic floor adjustment setting allows you to move between carpets and hard flooring.
A balanced brush roll and double helix bristles allow for more effective and deeper carpet cleaning.
---
4
Another top-rated lightweight Vacuum making waves today is the Shark Rocket from Shark.
The Shark Rocket is powerful and lightweight and will not lose suction.
The powerful two-in-one can vacuum and deep clean your carpets easily.
Also perfect for quick pickups on carpets and floors with its lightweight design.
The Vacuum has many attachments that allow you to clean all over easily.
There is a handheld option, a motorized floor nozzle, a wand, a duster, a crevice tool, and the pet multi-tool for pet hair and fur.
---
5
One of my personal favorites is the Hoover Linx. It also offers excellent suction power, with a very easy-to-use and lightweight design for older persons.
The vacuum uses a fade-free lithium battery to operate to interchange between the cordless option or corded.
There is an extreme recline handle to reach further without bending down, which is a great feature for older persons.
The Edge cleaning bristles remove dirt, dust, and pet hair in hard-to-reach places.
Windtunnel technology creates suction channels to lift and remove surface debris and dust, and deeply embedded dirt.
You can also transition from carpets to floors easily and automatically.
The vacuum is very lightweight at under 10 pounds, so you can easily carry it from room to room.
---
6
Black and Decker is another highly prized electronic brand, with its superb and lightweight Power Series Pro vacuum for elderly persons.
A two-in-one was an easy-to-use Cordless vacuum that is extremely lightweight for seniors.
You can choose between a two-in-one Anti-Allergen Vacuum, a two-in-one Pet Vacuum, or a general two in One Vacuum.
The Smartech feature makes cleaning easier with the Autosense adjustable setting for changing from carpets to floors.
There is a better sense of which shoes you your battery life and a filtered sense, which alerts you when you need to change the filter.
Accessories include; a 6-inch nozzle, crevice tool, upholstery brush, accessory tool, and a washable filter kit.
A touchpad from which you control and adjust the speed and the settings with an Led backlight.
---
7
The Eureka Flash is a lightweight corded stick vacuum ideal for seniors.
A stick Vacuum design that is easy to use by seniors.
It is very lightweight at 6.3 pounds and is corded.
There are Led headlights to help you easily find hidden dust and debris.
There is also a 030 feet cord for extended cleaning and easier reaching.
It comes with a convenient and portable storage base.
---
8
If you are looking for a multi-purpose lightweight vacuum, the Inse 18KPA will clean various surfaces and items in your home.
The Inse Vacuum is a powerful suction stick vacuum cleaner that is lightweight for seniors.
It is a multi-purpose three-in-one vacuum that covers most surfaces types,
Easy to use and easy to switch modes between hard floors and carpets,
Automatically dumps trash from the dust box with the press of a button.
---
9
The Eureka WhilrWind is a very lightweight and easy-to-use Cannister design vacuum cleaner that is bagless.
A very innovative Multi-Surface cleaning vacuum cleaner for seniors.
The Eureka is lightweight and straightforward to maneuver under and around furniture.
It has a large 2.5ml dust container with no bags or filters required.
There is also a two-in-one crevice tool to get in between small crevices.
The vacuum is electric and corded.
---
10
I highly recommend the Dyson Cordless stick vacuum for seniors with allergies that works with a powerful HEPA filter system.
The Dyson is ideal if you have allergies.
It has a HEPA filter system and is cord and hassle-free.
The HEPA filtration system catches all allergens and feels cleaner. You can use it on carpets and hard floors.
---
Index Table: Top Rated Lightweight Vacuum Cleaners for Seniors
---
---