Cycling is an extremely popular hobby for both young and old. It has many health benefits and can be safe for adults and children.
However, for an elderly person cycling on a regular bike may become quite difficult as balance becomes more of an issue as we age.
A Three Wheel Bike or tricycle may be just the option you want with this.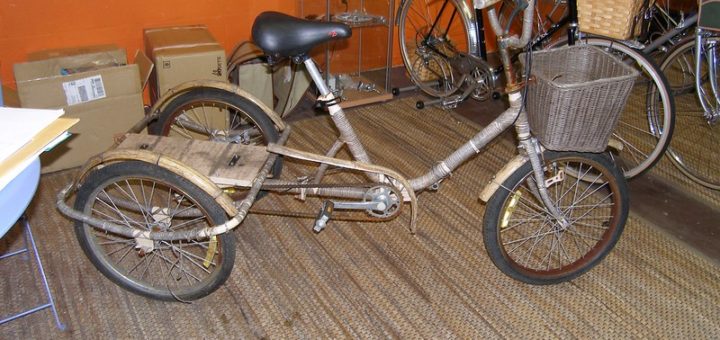 ---
Health Benefits of Cycling for Seniors
Firstly, let me explain how many benefits cycling can hold for an elderly individual;
Uses all your Muscle Groups – When cycling on a Three-Wheeled bike, you still need to use all your muscle groups to peddle, steer and coordinate. Thus you are getting a healthy full-body workout that does not place much weight and strain on your knees and joints.
Cycling Reduces Stress – Cycling on your tricycle will keep you calm when you are outside with fresh air and enjoying the scenery. It reduces stress and air with depression.
Better Social Life – Cycling and getting outdoors means meeting new people or reconnecting with friends and loved ones as you are more mobile. This is ideal for improving your social life.
Reduces Fear – Using a tricycle can reduce the Fear of riding an actual bicycle that may tip over or fall. Many elderly persons may not have learned to ride a bicycle in their younger years or may not be able t anymore. A Tricycle may remove the feat as it is completely balanced and safe for use.
It Enhances Coordination – Pedalling a Tricycle requires using multiple muscle groups together. It would help if you had your legs, arms, hands, feet, and good eye coordination to follow the road and directions. Thus, in turn, it improves your overall coordination.
Reduces the Risk of Disease – Cycling can help adults recover from strokes and reduce the risk of many age-related and heart diseases. Most people who exercise and love healthier need less medication and are less prone to disease. The exercise also improves the strength of a senior individual to reduce the risk of imbalance and falls.
---
Three Wheel Bikes for Seniors
Three-wheeled bikes or tricycles for seniors are safer and better options than regular bicycles for an elderly person who may struggle with balance, mobility, or coordination. They are sturdy and generally pedal easier than a regular bicycle. Most tricycles also come with additional storage and are an excellent way for seniors to travel short distances to friends and family or buy a few groceries.
Riding a tricycle offers excellent balance and stability for a senior, which improves their confidence and allows them to enjoy outdoor exercise that is safe and comfortable. On the other hand, storage baskets are also an ideal transport method for seniors who cannot afford or drive a motor vehicle.
On the other hand, remember that a tricycle is larger than a bicycle and can be tricky to make very sharp turns. It is also heavier than a bicycle should you need it to be portable,
And not as versatile in very narrow spaces or sidewalks. However, these are the main cons of a tricycle that do not seem so bad compared to all its many benefits.
---
Features of a Good Three Wheel Bike for Seniors
These are some excellent features to look for in a good three-wheeled bike for seniors;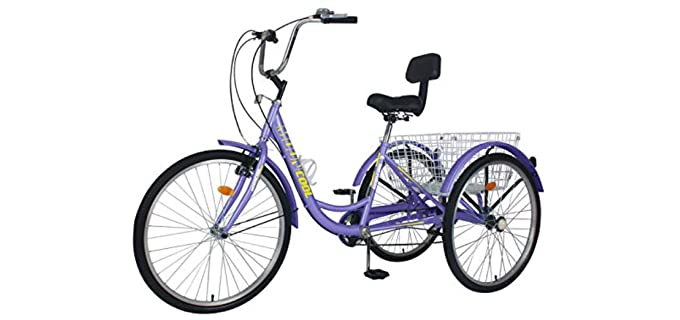 Step Through Design – The Step-through design allows for much easier mounting and dismounting of the three-wheeled bike.
Accessories – Most Three-wheeled bikes come with reflectors, lights, and a storage basket, which is quite convenient.
Comfort – A Three-wheeled bike with a large wide cushioned seat and a backrest will be your most comfortable option. Some also come with padded and comfortable handlebars.
Brakes – The Three-wheeled bike needs to have a proper and functional brake system, usually a pedal brake, but there are models with hand brakes available.
Available Parts – Always look at popular brands and models of three-wheeled bikes for which extra parts are available should something break on the trike or should you want additional extras.
---
Reviews: The Best Three Wheel Bikes for Seniors
We hope you love the products we recommend!
So that you know, We may collect a share of sales or other compensation from the links on this page.
---
1
The Mobo Triton is the Perfect Three Wheel bike for seniors.
It has the ideal design for both men and women.
It is a pedal trike that has three wheels with a recumbent design.
The seat is ergonomic and ideal for seniors.
---
2
The Schwinn Meridian is a top-brand trike for seniors.
The three-wheeled bike is safe and sturdy for seniors.
T has an aluminum farm and a cargo basket.
You can also get the three-wheeled bike in more color options.
---
3
The Slsy is a perfect three-wheeled bike for seniors.
It is a sturdy design with a large capacity basket.
It has a seven-speed design and comes in 20, 24, and 26-inch options.
Ideal for senior men and women and comes in size options to suit your needs.
---
4
The Tri rad is a folding Three-wheeled bike for seniors.
It has a lightweight and foldable design for compact storage and transportation.
The three-wheeled bike is sturdy and comfortable for seniors.
It comes with effective brakes and a single-speed design.
Available in 20 or 24-inch adult sizes to suit your specific needs.
---
5
The Schwinn meridian 24 or 26-inch size three-wheeled bike is also ideal for seniors in a larger size.
It comes in more color options with a handy basket.
The three-wheeled bike is safe and sturdy with brakes, which is ideal for seniors.
It has a comfortable seat design and a lower shape, making it easier for seniors to get on and off.
---
6
Here we have a 26-inch three-wheeled bike for seniors.
It is a seven-speed three-wheeled bike for seniors with a sturdy design.
The tricycle can be folded for transportation and easy storage,
It is also lightweight and safe for seniors to use and store away as needed.
---
Index Table: Top Rated Three Wheel Bikes for Seniors
---
---